Thursday, Dec 10, 2020 6:00PM
-
Sunday, Dec 13, 2020 6:00PM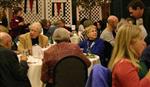 Before evening & after matinée performances
The Shedd Institute offers great set-menu, casual dinners for $23.75 ($18.75, kids 9 and younger) in Warren Court at 6pm before most evening performances and after most matinées (usually 6 pm as well, depending on the length of the show). Created by The Shedd's own kitchen, each meal includes entrée (vegetarian option; special needs by request), side dish, salad, The Shedd's famous yeast rolls, dessert & coffee/tea. Wine & beer, mixed drinks, soft drinks, and juices are available for purchase at our full bar. Sign up and purchase at least 1 day in advance through The Shedd Ticket Office or online.
Choose another item
Please confirm that this is the meal associated with the performance you are attending! If not, review and select from the list of other dinners below.
Shedd Events Calendar
Item details
Date
Saturday, Dec 12, 2020 6:00PM
Name
All Is Bright Dinner

,
Meal
Description
This evening's performance is sponsored by
Sally Nill
Collis Wealth Management Group
The Eye Center Drs. John Haines & Kent Karren
Notes
DINNER MENU:
[information]
Mixed Greens w/Apples and Goat Cheese
The Shedd's renowned fresh homemade rolls
Pork Medallions w/Leek Cream Sauce
[Vegetarian alternative] Butternut Squash Napoleon
Mashed Potatoes; Asparagus
Pear Ginger Upside Down Cake
Coffee & Tea (other beverages available for purchase)
Come join Shirley Andress, Bob Cross, Tracy Williams, Siri Vik and The Jazz Kings Christmas Ensemble for a heartwarming evening of Christmas and holiday music and just a huge amount of good cheer and companionship!
[matinee info]
[Dec 12th matinee tickets]
[evening info]
[Dec 12th evening tickets]
,
for